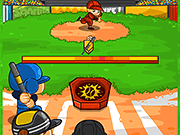 HomeRun Champion Game Online - Play Free Fun Baseball Web Games
Prove your baseball skills in three different leagues against 24 teams. As the batter you have to score as many homer uns as possible to earn maximum points. As the pitcher you have to throw the ball into the strike zone to strike out your opponent. Will you beat all teams and leave the pitch as the one and only champion? Have fun!
10,915 play times
How to Play HomeRun Champion Game
Use your mouse or swipe the screen to swing bat and throw ball.
Bryce Harper Fun Facts for Kids
According to rsvlts.com there are many fun facts about Bryce Harper that kids will enjoy learning about. Bryce Aron Max Harper is an American professional baseball right fielder for the Washington Nationals of Major League Baseball. He stands 6 feet 3 inches tall and weighs 230 pounds. In 2008 Bryan was originally drafted in the 31st round out of Las Vegas High School by the Nationals in 2008, but he chose not to sign and played with Bryce for the College of Southern Nevada the following year. After hitting 13 home runs in just 58 games, Harper was selected to participate in the 2013 Home Run Derby.
In Baseball what is a Home Run
According to WikiPedia in baseball, a home run is scored when the ball is hit in such a way that the batter is able to circle the bases and reach home safely in one play without any errors being committed by the defensive team in the process. In modern baseball, the feat is typically achieved by hitting the ball over the outfield fence between the foul poles without first touching the ground, resulting in an automatic home run.