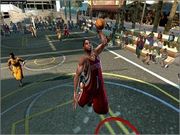 Fun Street Sports Games Online - Play Free Online Sport Game
Play free street sports games online at SportGames247.com. Street sports are sports held in urban environments. Other key characteristics attributable include their non-commercial and non-professional nature. Not everyone on have access to great sport complexes to play their favorite sports, in these cases often the street is the place to enjoy the fun game. We have hand-picked the best free of charge street sports games currently on the web for you and published them on this website, at SportGames247.com. Street sports are a hybrid form of sport and reflect the adaptation of conventional sports to the cityscape and is a popular and inexpensive recreational sport that is played by all levels of society. All our online street sports games are free of charge, free of any obligations and a lot of fun. You will find a variety of cool, free online street sports games here at SportGames247.com. Are you ready to take the challenge all these online street sport games offer you?
Our Street Sports Games Offer Action-Packed Entertainment
Our fun street sports games offer many hours free action-packed sport entertainment. You can choose from plenty of sports, which offer realistic game-play and exciting challenges. When you play this online games you should expect speed, excitement and sensation (that's what street sporters are looking for). Enjoy many street sports such as skateboarding, free running, street basketball, BMX, soccer, and even some crazy ones that you probably only find in an online setting. Depending on your present level as a gamer and your expectations when it comes to graphics, you will surely find the ones that best suit you.
Reasons Why Should Play Sports on the Street
It fast, easy and convenient to go outside and play some ball or other sports on street. You don't have to be a member of an expensive club, or drive to a sporting complex. For kid trying to succeed in street sports, seeing their hard work pay off has a positive impact on their self-esteem. The rules of street sports provides guiding principles and let you enjoy a lot of outside air. It's a lifetime of relationship to the people around you. Unfortunately somehow, often we find ourselves living in a world where kids playing on the street are considered a nuisance, and where parents feel timid about letting their kids outdoors. Fear of traffic was parents' top reason for keeping their kids in the house, with most naming it as an issue. "Stranger danger," or fear of abduction, is another concern. All these things are connected, the prevalence of cars, the distrust of strangers, the intolerance of normal childish behavior. We recommend you to try to play a fun street sport game today.
include '../ads/rightresad.php'; ?>
Like us on Facebook
include '../ads/matchedcontent.php'; ?>