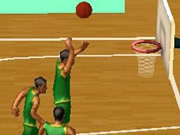 Fun Basketball Games Online - Play Free Kids Basketball Games
Welcome to SportGames247.com, we are providing you with free online basketball game entertainment 24 hours a day, 7 days a week. Fun and exciting basketball challenges are waiting for you in our fun online game collection. We have free web games that are short, long, hard, easy, you can say pretty much all kinds of basketball games. Whether you are beginner or an expert gamer, you should be able to find a free game you will like. Every day we add a few new tweaks to the website all to give you a great free online gaming experience.
Sports Fans will love our free basketball games
Sports fans will love our huge selection of fun basketball games. You can play quick arcade challenges or in-depth simulation challenges. Choose your favorite court, pick a player, and get ready to shoot some hoops. Our online game collection puts you in control of star NBA players, street ball athletes, and newbies. You'll be challenged to make 3-pointers, score huge slam dunks, and beat your opponents in 4 quarters. Our fun online sport game collection is full of countless types of sporting bouts. You can play March Mayhem, Hoop Shootouts, and even show off your NBA Spirit. All of our free basketball games feature colorful graphics, easy-to-learn controls, and highly addictive game play. You'll be completely immersed into high octane sports adventures. Our online collection will fire you up, put your skills to the test, and give you the chance to become an NBA star. So why don't you go ahead, show off your talent and sink some 3-pointers today.
Why Kids Should Play Basketball
There are many reasons why kids should play basketball. It is a well-known fact that kids who regularly play basketball avoiding getting overweight and their heart stays healthy. Today all kids want to do is play video games. They have no desire to get up and do anything else. This is a dangerous lifestyle, but it can be fixed by just going outside once in a while and shoot a few hoops. Basketball keep kids health, and also teach them lessons for later in life. Kids will learn about team work in a fun way. They will learn to interact with other people for a common goal, and their social skills will improve. Learning basketball allows children to incorporate frequent physical activity into their daily routines and contributes to overall physical well-being and fitness. Becoming involved with basketball at an early age helps kids develop psychologically. Playing on a team allows your child to make friends and feel involved with her peer group. Team sports also improve a child's ability to communicate and solve basic problems.
A Few Fun Facts About Basketball
There are many fun facts about basketball. The basketball court floor is usually made of wood flooring. In the 1920s there were teams all over the United States, but it wasn't until 1946 that the Basketball Association of America was formed. In 1936, basketball became an official game at the Olympics, which were held in Berlin, Germany. It wasn't until the 1950s that the orange ball became the norm. The tallest man to play in the NBA was Gheorge Muresan. He was seven feet, seven inches tall.
include '../ads/rightresad.php'; ?>
Like us on Facebook
include '../ads/matchedcontent.php'; ?>