Basket Swooshes Plus Game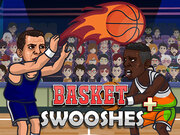 Basket Swooshes Plus Game Online - Play Free Fun Basketball Html5 Games
Ultimate basketball game from our free hand-picked online collection. Show your skills and cool head. Three game modes: World cup, Time challenge and 2 Players mode where you can play against your friend on two devices. Have fun!
12,460 play times
How to Play Basket Swooshes Plus Game
The control is simple. Move pointer to aim and shoot. Reach 11 points before the other guy.
The Three-Point Shootout is a National Basketball Association contest
The Three-Point Shootout is a National Basketball Association contest held on the Saturday before the annual All-Star Game as part of All-Star Weekend. According to WikiPedia in this contest, participants attempt to make as many three-point field goals as possible from five positions behind the three-point arc in one minute. From its introduction in 1986 to 2002, and again in 2017, eight participants were selected to participate in each season's shootout. Between 2003 and 2016, the contest was open to just six competitors. Players begin shooting from one corner of the court, and move from station to station along the three point arc until they reach the other corner. At each shooting station is a rack with five basketballs. Out of the five balls, four are worth one point (the standard orange Spalding game balls) and the fifth one (a red/white/blue ABA-style ball; often nicknamed the "money ball") is worth two points. The goal of this contest is to score as many points as possible within one minute. A perfect score used to be 30 points. In the 2014 contest, a rack consisting only of "money balls" was added, and can be placed on any of the 5 spots of the player's choice, bringing up the maximum possible score to 34 points. Contestants compete for a total of $86,000. The first-place winner receives $35,000; the second-place finisher receives $22,500, and the third-place winner receives $15,000. Finishers, from fourth to sixth place, receive $4,500 each. Craig Hodges have each won three consecutive times, while Mark Price, Jeff Hornacek, Peja Stojaković and Jason Kapono have each won two consecutive times. Craig Hodges holds the record for most shots made in one round (21/25), as well as most consecutive shots made (19).
Tags: BasketballContest