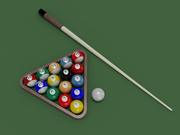 Pool Html5 Games Online - Play Free Fun Billiards Game
Pool is also known as billiard, a popular game in which two people or two teams face each other, and you can play this precision sport online for free at SportGames247.com. With the so called billiard cue the billiard balls are struck on a pool table that has been upholstered with a special pool table cloth. We offer you free online pool html5 game entertainment 24 hours a day, 7 days a week. We have searched the Internet for the current best billiard games and published them here on our website. All our pool html5 games are free of charge and extremely fun to play. Playing billiard, also written as billards/billiards or billiard, one has to differ between up to 35 different game styles. The most popular among these are 8-ball or 9-ball pool billiard, the snooker version, carambolage billiard, pinball billiard, so called Russian billiard and English billiards. No matter if it's classic billiard, 9-ball or rather 8-ball billiard or snooker, on our website you will find a multitude of cool and free online billiard games. Playing html5 pool games online at SportGames247.com is a blast.
Fun Online Games for every type of pool variation
For every type of billiards variation, we have a corresponding fun html5 game. Our free pool html5 games are home to dozens of different table styles and colors. In fact, playing our billiards games is like having an entire billiards hall at your fingertips. Go from playing a round of traditional 8-ball to glowing, lightning arcade pool in seconds! For advanced pool sharks, we even have 9-ball games available in varying difficulty levels, from beginner to expert. Other specialty billiards games are also at-the-ready, such as sheep themes, round tables, and much more. Our fun pool html5 games give you additional control and advantages over playing billiards in real life. Aim your shots with ultimate precision and vision, with no shakiness at all. Several of our online billiards games feature helper lines, which show you exactly where the balls will go. You can also enjoy to play with a friend in several variations of snooker. Our fun online billiards collection will keep score for you, so there's no need to worry about complicated point rules. And when you're done playing a friend, show off your skills in a html5 game of trick shots. Have fun with our free online billiard games!
Why You Should Play Pool
There are countless reason why you should play pool or billiards. Pool is a game that not only challenges control over certain parts of your body, with strokes, stances, and hitting the cue ball in various places, but pool also challenges your intellect, and also your capacity to create situations in your mind and see them come into fruition on the table. The game of pool will help your capacity for being patient rise as well as your capacity for self-control because a lot of times while playing pool, there seems to be an impulse to hit the ball as hard as possible or grip the cue stick with all the strength of a boa constrictor. The game will also help you develop a sense of geometrical awareness. One huge benefit of pool is that it is a game that can be played by anyone of any age group. Above all, fun games like pool and billiards are internationally known and can be played in almost any country. Even in perceived 3rd-world countries there are places to find pool tables that are accessible to the general public.
Fun Facts about Billiards
There are many fun facts about billiards or pool, and we used some websites we found by searching the Internet to research some of these. Billiards evolved from a lawn game similar to croquet played sometime during the 15th century in Northern Europe. It is known to be one of the safest sports in the world. According to research conducted a few years back, billiard champions have the highest average age of any sport, 35.6 years. The first coin operated billiard table was patented in 1903. The cost of a game on the first pay for play table: one penny. At times, including during the Civil War, billiard results received wider coverage than war news.
include '../ads/rightresad.php'; ?>
Like us on Facebook
include '../ads/matchedcontent.php'; ?>