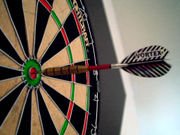 Fun Darts Games Online - Play Free Online Dart Sport Game
Welcome to the electrifying world of SportGames247.com, your passport to an endless darts adventure! Unleash your inner sharpshooter as you dive into our treasure trove of free online dart games, available 24/7, 365 days a year. We've meticulously curated a selection of the most exhilarating and heart-pounding dart games from across the web, all right here at SportGames247.com. Darts, the beloved sport of the masses, is no longer confined to the elite - it's your game, and it's free! With a plethora of thrilling and engaging online darts games at your fingertips, the stage is set for you to hit the bullseye and claim your glory. Best of all, it's a journey free of charge, free of constraints, and bursting with non-stop fun. So, step up, take aim, and let the games begin! May your darts always find their mark, and your high scores soar to new heights!
Our Darts Games Offers Plenty of Free Entertainment
Being more than just a game of skill and rather a fun game that puts your mind to work, darts is an ever growing popular type of sports. The phrase "One hundred and eighty!" is often heard during dart tournaments. This is the highest score a player can throw in one turn, and that is why this is loudly announced. Darts is a fun game where 2 or more players take turns to throw 3 arrows to a dartboard. One of the best dart players in the world is Phil Taylor. Aim to become a dart hero like him and beat the computer in an online html5 game of darts. There are several variations, so enough material to play for hours. What will you pick: 301 or 501? Once you have made your decision, exercise your throwing skills putting all your efforts for reaching zero. Depending on your present level as a dart player and your expectations when it comes to graphics, you will surely find the ones that best suit you.
Fun Facts About Dart
The game of darts, or dart, is a popular game of skill and a well-known precision sport that is practiced mainly in pubs, in which arrows, called darts, are deliberately thrown at a round disc, called dartboard. Regarding the first appearance as well as the origin of darts, there are many different assumptions, dealing with truly numerous possibilities. Some records from the 19th century, however, can plausibly assume that England is the mother country of the dart game. But the name of darts and dart actually comes from the French. The French in those days used small darts in battles, which were used as dangerous weapons similar to spears. Even in England this dangerous French weapon was very well known. Anne Boleyn allegedly gave her husband Henry VIII a set of these darts. Despite the English origins, the game is now called "Les flechettes" in France. Darts is a game that experts believe can boost your focus and is quite addictive. Playing darts can also trigger the release of endorphins, those feel-good chemicals in your brain. What's great about darts is that it's a sport you can enjoy from childhood to old age. It's not just about physical activity; it's also a way to create and share special moments and emotions with your loved ones. So, why not have some fun with online dart html5 games over at SportGames247.com?
include "../ads/rightresad.php"; ?>
Like us on Facebook
// include '../ads/matchedcontent.php'; ?>