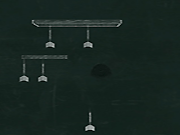 Dart 69 Game Online - Play Free Fun Darts Web Games
Did you ever want to play darts and did not dare to do so because you are afraid of making a fool of yourself in front of your friends? Then, Dart 69 is just right for you.Throw the darts on the different moving platforms. Watch out for collision with other darts. Can you finish every level? Have fun!
10,782 play times
How to Play Dart 69 Game
Use your mouse or swipe the screen to aim and throw.
Darts is Considered a Bar Sport
Darts is a sport, in which a generally good physical condition helps, but the fitness of the players is not decisive. Despite World Cups, it is still a "bar sport" and many of the top players do not shine through an athletic figure. Nevertheless, they undoubtedly dominate their sport. Success in dart is based on concentration as well as coordination, feeling, talent and proper technique. Darts professionals achieve an average of 100 points with just 3 throws. They manage to hit a triple field, which is only about 2.5 x 0.8 cm in size, three times in a row at the prescribed distance of 2.37 m. An incredible achievement, which does not require physical, but a considerable amount of mental fitness.