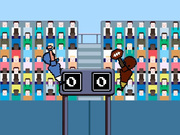 American Touchdown Game Online - Play Free Fun Football Web Games
You are best quarterback ever, so good that you alone can take on a whole football team and still score a touchdown. In this free online game you get to prove that you are a pro American football player and show your skills by scoring as many touchdowns as you possible. Play alone or get some fun with your friend in 2 player mode. Have fun!
11,816 play times
How to Play American Touchdown Game
Player 1 controls: A – move left, D – move right, W – throw ball. Player 2 input: Left arrow – move left, Right arrow – move right, Up arrow – throw ball.
What is the Role of Quarterback?
According to WikiPedia a quarterback is a player holding a position in American and Canadian football. Quarterbacks are members of the offensive team and line up directly behind the offensive line. In modern American football, the quarterback is usually considered the leader of the offensive team, and is often responsible for calling the play in the huddle.
How do people become a Pro Quarterback?
Quarterback is the one of the greatest positions to play. According to WikiHow.com it is important to study up because you need to be smart on the field. Second, you will need to develop leadership skills. Third, you need build up significant strength in arms and legs. Then you will need be an expert on accuracy and timing. Accuracy is one of the most important attributes to being a successful quarterback. You need to be able to throw on target and on the move. Also you will need to develop some speed. But, probably the most important thing is that you need to be able to gain trust from and trust your teammates. If you do all this you will have a great chance of one day become a pro.