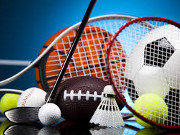 Fun Sport Games Online - Play Free Sports Html5 Game 247
Play popular sport games online for free, which are available 24 hours a day, 7 days a week. SportGames247.com is focusing on online html5 games related to all the wonderful sports in this world. We have hundreds of sport html5 games were you run, hit, kick, and lots more. Sports fans are guaranteed to have a lot of fun on our website. It doesn't matter whether it is hot, cold, rainy or windy outside, you can always play our sports games online. All year you can play football, baseball, cricket or tennis. You can also Practice in a penalty shootout or play a game of mini golf, basketball or volleyball. You can even play bowlining inside your own home, without even having a bowling alley. It is all hear in our hand picked virtual sports html5 games. Why not also try a different sport that you are not familiar with yet, maybe you will like it. If you have the slightest interest in sports, then there must for sure be an online sports game that you will enjoy to play on our website. Have Fun!
Why not play a fun online sport game today?
We offer you fun free online entertainment. Do you like sports and also to play free sport html5 games on the web? Well, then you will love this website. If you are in the same mood as us today, you probably would like to play one of our free sport html5 game online right now.
What Defines Online Sport Html5 Games
An online sports game is a html5 game that simulates a traditional sport. Most sports have been recreated with a html5 game, including team sport, athletics and extreme sports. A html5 sport game is an online game that is played from within a web browser using Adobe Html5 player. You can tell that a sports game is made in html5, by right clicking, then it would say Adobe Html5 player. They are created for online and mobile applications. There are thousands of sports html5 games available across the web, and the applications are boundless for developers. Many of these sport games are based on popular existing titles as well, and are as addictive as their console, arcade, and PC counterparts. The benefits of these fun sport games, is that they are free and everyone with a web browser connect to the internet are able to play them online. You can also play these all year round from anywhere, just imagine going skiing while sitting in the desert on a hot summer day or playing soccer in northern Minnesota while it is 20 degrees below 0 and blizzard outside. Websites such as SportGames247.com let's you have these opportunities.
Take a Break and Play Fun Sport Games for Kids and Adults
A traditional English summer day, with plenty of rain? A group of elderly patients? A bunch of young patients? Protected engagement time? All an ideal opportunity for some indoor sports game online. Trapped traveling in a car, train, airplane, or boat, but still have Internet access? In all these situations our fun online sport games are designed to take your boredom away. Are you starting to get tired of the app-store, those movies on Netflix, and your braggin friends on social media? Well, why not take a break from all that mess and play some of our fun online games? Is your boss a jerk, or are customers giving you trouble? Well take a break and play one of our sport html5 games. Is it too hot outside, too cold, or are the mosquitos getting too bad? Well, take a break and play one of our html5 sport games for kids and grown ups. No matter what your situation is Sports are Best on the Internet.