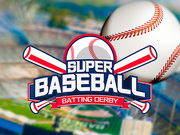 Super Baseball Game Online - Play Free Fun Baseball Web Games
Super Baseball is a simple and easy batting game for all players who love baseball. Hit the ball thrown by the pitcher at good timing. If you hit the sweet spot, it will be an exhilarating homerun! The ball is gradually getting tough to hit. Could you make the high score by getting over the difficulty?
13,952 play times
How to Play Super Baseball Game
Tap the screen or use your mouse. The batting circle becomes smaller in line with the ball when pitcher throws. You can hit the ball by tapping at good timing. The best batting timing is where red line and white line intersects. You can also hit the ball by your sense without aiming the lines. The game ends when you miss hitting twice.
Some Fun Facts About Pro Baseball
There are many fun facts to learn about Professional Baseball. Major League Baseball (MLB) is a professional baseball organization that is the oldest of the four major professional sports leagues in the United States and Canada. MLB was founded in 1869 when the first professional team, the Cincinnati Red Stockings, was established. There are 30 teams in the two Major Baseball leagues: 15 in the older National League and 15 in the American League. The Major League Baseball season consists of 162 games for each of the 30 teams in the American League and National League, played over approximately 180 days, for a total 2430 games. The season typically runs from early April to late September, followed by the post-season in October. The most successful pro baseball team of all times is the New York Yankees, no other team is even close to have won as many world series as them.
Super Slugger Record in Baseball
In baseball a slugger is a player who consistently hits for power. It is said that this baseball player has a high slugging percentage. According to WikiPedia in baseball statistics, slugging percentage (SLG) is a measure of the batting productivity of a hitter. It is calculated as total bases divided by at bats. Unlike batting average, slugging percentage gives more weight to extra-base hits such as doubles and home runs, relative to singles. Walks are specifically excluded from this calculation, as a plate appearance that ends in a walk is not counted as an at bat. In 2016, the mean average SLG among all batters in Major League Baseball was .417. Looking for a Super Slugger in Major League Baseball, there are two players which will fall into the category super. Babe Ruth was a super slugger. In 1920, Babe Ruth played his first season for the New York Yankees. In 458 at bats, Ruth had 172 hits, comprising 73 singles, 36 doubles, 9 triples, and 54 home runs, which results in a slugging percentage of .847. This was the baseball slugging record for 81 years until 2001, when another super slugger named Barry Bonds did better. Barry Bonds achieved 411 bases in 476 at-bats, bringing his slugging percentage to .863, this has been an unmatched recrod since.