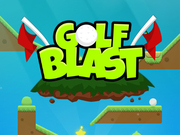 Golf Blast Game Online - Play Free Fun Golf Web Games
Golf Blast is a competitive arcade challenge to navigate the randomly generated levels and score a hole-in-one. You need to avoid the bunkers or use them to your advantage - only the best athletes will survive. Have fun!
11,699 play times
How to Play Golf Blast Game
Click and drag to aim. Release to take your shot. Collect stars along the way for bonus points. Avoid getting stuck, and use the verticality of the level to minimize the number of strokes you have to make.
Golf Makes You Patient and Improves Focus
A golfer gets an opportunity to putt and the others competing wait patiently for the player to complete his turn. This improves their patience levels. Patience and perseverance are what you need in a game of mini golf. Apart from these, you also start cooperating with other players on the course, which creates camaraderie. And what's more important in any game than the sportsmanship spirit?