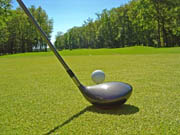 Fun Golf Games Online - Play Free Online Sport Html5 Game
Play free golf games online at SportGames247.com. We offer you free online sport game entertainment 24 hours a day, 7 days a week. We have hand-picked the best free of charge golf games currently on the web for you and published them on this website, at SportGames247.com. The sport is a popular ball game with an ancient tradition that dates back several centuries. The goal in golf is to hit a ball into a hole with as few strokes as possible, which is also called "putting", wherein different golf clubs are used on different attempts or when putting. A round of golf usually consists of 9 to 18 holes that are played one after the other on the golf course. Usually, the sport of golf that was coined in Scotland - Great Britain is considered to be predominantly elitist as well as a rather expensive pastime. In Anglo-Saxon countries, however, golf is a popular and inexpensive recreational sport that is played by all levels of society. Golf is not a sport that is reserved for the elite. Golf can be played online, for example, here at SportGames247.com! All our online golf games are free of charge, free of any obligations and a lot of fun. You will find a variety of cool, free online golf games here at SportGames247.com. Have fun playing golf and good luck with the putting as well as with the fun online mini-golf games!
Our golf games offer many hours of entertainment
Our fun golf games offer many hours of 9- and 18-hole entertainment. You can choose from plenty of courses, which offer realistic holes and exciting challenges. Avoid deep sand traps, stay away from water hazards, and try to sink the final putt in the least amount of strokes possible! Our online collection will test every aspect of your craft, from long drives to chips to putts. Practice your backswing, perfect your aim, and hit balls like Tiger Woods. Play any type of golf challenge, including match play, stroke play, and skins. Our free online golf games also include alternate and arcade challenges, such as space and gravity-altering levels. In some challenges, you can play on themed courses and in magical lands. Practice individual skills such as driving and putting in specialized games, and try to set new records. You can even play some fun free games which alter physics, always changing and keeping you on your toes. For a fast challenge, try to play one of our mini-golf challenges, which offer several types of putt-putt courses. Grab your bag and hit our virtual courses today!
Reasons Why Golf is the Best Sport
According to the TheGolfExpert.com there are many reasons why Golf is the Best sport. Golf is said to prolong life more than any other sport, as it make you walk fast, spin and bend down for an average of 5 hours along 6 miles. It improves concentration. It's addictive. This sport releases endorphins. This is one of the few sports that can be enjoyed from your childhood to the very last day of your life. Due to its high level of difficulty, there will always be room for improvement. Golf is a sport meant to not only sweat but to also share moments and emotions with family and friends. There are rules that make you behave yourself, stay well-outfitted, and protect the countryside. These rules provides principles. Last but not least, it returns you to the nature, and let you enjoy a lot of fresh air.
Fun Facts About Golf Balls for Kids
According to theFreeLibrary.com and 10-facts-about.com there are many interesting and fun facts about golf balls for kids. Early shepherds may have used their curved staffs to hit stones in a simple game of "golf" as early as 2,000 years ago. A more structured version was invented in Scotland nearly 1,000 years ago. The first balls were made of thin leather stuffed with feathers. Tightly-packed feathers made balls that flew the farthest. Feather balls were used until 1848. There are currently 2 golf balls sitting on the moon. There are 336 dimples on a regulation ball. A dimpled ball can travel up to four times farther than smooth-surfaced balls.
include "../ads/rightresad.php"; ?>
Like us on Facebook
// include '../ads/matchedcontent.php'; ?>