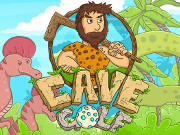 Cave Golf Game Online - Play Free Fun Golf Web Games
Here you get to play an action packed game of pre-historic golf. Instead of a modern metal club, pick up your stone hewn model instead and play Caver Golf. This free online game has an amazing prehistoric theme and lets you play a variety of crazy golf course surrounded by lava, dinosaurs and wooly mammoths. Have fun!
12,259 play times
How to Play Cave Golf Game
Use your mouse to aim and shoot.
Some Fun Golf Facts for Kids
There are many fun golf facts for kids. Did you know that golf is one of the only ball games that don't require a standardized playing area. Golf, as we know it, developed in Scotland in the 15th century. The first golf balls were actually made out of wood. A ball travels quite noticeably further on hot days. The longest shot recorded is 515 yards (471 metres), this happend on a very hot day. Golf is a very popular sport and it is played by over 50 million people worldwide.