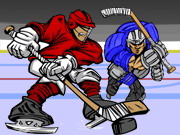 Hockey Browser Games Online - Play Fun Ice Hockey Game Online
Welcome to the exhilarating world of SportGames247.com, where your hockey adventure knows no bounds! Immerse yourself in the heart-pounding excitement of our 24/7 online hockey browser games, hailed as the very best on the web. As you step onto the virtual ice, you'll feel your adrenaline surge, battling your opponents in an intense hockey match that mirrors the real deal. Dive into stunningly realistic simulations of the sport, where we even offer electrifying multiplayer hockey games for you and your best friend to go head-to-head and determine who's the ultimate hockey ace. No more waiting for winter – our games are here to quench your hockey thirst, whether it's a blazing summer day or a snowy winter night. Ready to take on the challenge? Prove your mettle as the undisputed hockey champion of our site. Strap in, give it your all, and let the games begin. Best of luck, and we guarantee you'll savor every heart-stopping moment of our hockey browser games and our exceptional website!
Hockey Fans love our collection of Hockey Games
Fans of the classic Canadian ice sport will love our online collection of hockey games. You can skate with your favorite players, engage in skills competitions, and play tournaments. We have a wide variety of different sports challenges. Glide across the ice as a New York Ranger, pass the puck to doggy teammates, or play a casual backyard game. Just like in the NHL, you must score more goals than the other team to win. Strap on some skates, and practice your slapshots online today. Our hockey browser games include solo and team challenges. If you like to be in the spotlight, try competing in a shootout competition. You must skate towards the net, perform crafty dekes, and fool the goalie to score. We also have some air hockey games which are both fun and challenging. Compete in one-on-one action against the computer or a friend. For a fighting challenge, toss down your gloves, and fight as a Goon. Whether you want to punch, skate, or score, we have the perfect ice hockey browser game for you!
Why Kids Should Play Hockey
Kids should play hockey for a multitude of reasons, as the sport offers numerous benefits. Firstly, it promotes physical fitness and athleticism, helping children develop strength, agility, and endurance while also enhancing their hand-eye coordination. Hockey teaches valuable life skills such as teamwork, communication, and discipline, as players need to work together and follow rules and strategies. Additionally, the game instills a strong work ethic and resilience as kids learn to cope with wins and losses. Hockey also fosters a sense of belonging and camaraderie among teammates and friends, which can lead to lifelong bonds. Beyond the physical and social aspects, hockey provides a fun and exhilarating experience that can instill a lifelong love for the sport. It's a fantastic way for kids to stay active, learn life lessons, and enjoy the thrill of competition, making it a great choice for their physical and personal development.
Fun Ice Hockey Facts for Kids
Hockey is a fascinating sport, especially for kids, with a rich history filled with intriguing facts. The origins of the game can be traced back to at least 1363 when Edward III of England famously banned it in a royal decree. However, the concept of using curved sticks in games dates back even further, reaching as far as 4,000 years ago in ancient Egyptian culture. With such a lengthy history, the world of ice hockey is brimming with captivating stories, legends, and facts. For instance, the standard hockey puck has a three-inch diameter and is frozen before games to prevent bouncing. In its early days, the very first pucks used were rumored to be made from frozen cow dung during outdoor pickup games in the 1800s. Hockey rinks in North America are sizable, measuring 85 feet in width and 200 feet in length. An astonishing record belongs to Bobby Hull, who holds the title for the fastest recorded puck shot, clocking in at an incredible 118 miles per hour.
include "../ads/rightresad.php"; ?>
Like us on Facebook
// include '../ads/matchedcontent.php'; ?>