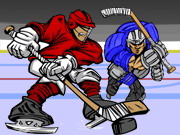 Hockey Browser Games Online - Play Fun Ice Hockey Game Online
SportGames247.com is offering you fun online hockey browser game entertainment 24 hours a day, 7 days a week. We provide you with the best hockey browser games on the Internet. When you play our online games you will feel how the adrenaline is rising when you are trying to win your opponent in a hockey match. A lot of these fun browser games are perfect simulation of how one ice hockey match really looks like. We have fun multiplayer hockey games that you can play with your best friend and compare you both who have better skills in this amazing sport. We all know that when the summer come the hockey game is not as popular because it depends on icy conditions. But you will not have to worry about that on our website, because our online browser games will be available no matter is it summer or winter. Start playing and prove yourself as a best hockey player of this site. We wish you good luck and we hope you will enjoy our hockey browser games and our website.
Hockey Fans love our collection of Hockey Games
Fans of the classic Canadian ice sport will love our online collection of hockey games. You can skate with your favorite players, engage in skills competitions, and play tournaments. We have a wide variety of different sports challenges. Glide across the ice as a New York Ranger, pass the puck to doggy teammates, or play a casual backyard game. Just like in the NHL, you must score more goals than the other team to win. Strap on some skates, and practice your slapshots online today. Our hockey browser games include solo and team challenges. If you like to be in the spotlight, try competing in a shootout competition. You must skate towards the net, perform crafty dekes, and fool the goalie to score. We also have some air hockey games which are both fun and challenging. Compete in one-on-one action against the computer or a friend. For a fighting challenge, toss down your gloves, and fight as a Goon. Whether you want to punch, skate, or score, we have the perfect ice hockey browser game for you!
Why Kids Should Play Hockey
According to PennLive.com there are many reasons why kids should play ice hockey. Thousands of people pack into arenas to watch it, and hundreds of thousands pack their bags to play it. From the NHL, to a small backayard, this game is played with pride, heart, grit, sportsmanship, skill, and most of all, fun. Hockey for younger kids is about good times and developing individual skills. Ice Hockey is a very physical sport which helps kids become healthy, strong, and competitive. This winter sport can be very fun for kids who have a passion to learn, listen, and play hard.
Fun Ice Hockey Facts for Kids
According to FactMonster.com there are many interesting and fun facts about the game of hockey for kids. It's known that this sport has been around since at least 1363, when Edward III of England banned the sport in a royal proclamation. However the histories of many cultures include playing games with curved sticks, dating as far back as 4,000 years ago to ancient Egyptian times. When a sport has been around as long as ice hockey, there are bound to be plenty of interesting facts, legends and stories surrounding it. Hockey pucks have three-inch diameters. They are frozen before each game so that they don't bounce during the game. The first hockey puck, used during outdoor pickup games in the 1800s, was reportedly made of frozen cow dung. Rinks in North America measure 85 feet wide by 200 feet long. Bobby Hull shot the fastest puck in recorded history, at 118 miles per hour.
include '../ads/rightresad.php'; ?>
Like us on Facebook
include '../ads/matchedcontent.php'; ?>