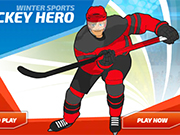 Hockey Hero Game Online - Play Free Fun Hockey Web Games
Ignore all those other hockey games. This is the real deal. Play as a team and pass, shoot, steal, and score! Choose your hero and compete against 3 fierce opponents in the Ice Hockey event. Avoid the attacking players to approach the goal line. Once in front of the goal time your shot to score! Will you win a Gold Medal by scoring in all 3 periods? Be a Hockey Hero!
11,531 play times
How to Play Hockey Hero Game
Use the mouse or the arrow keys to move. Use spacebar to shoot the puck.
The best ice hockey game every - Miracle on Ice
One of the best ice hockey games every is 1980 Olympic semifinal, later nick named the Miracle on Ice. The U.S. hockey team consisted of a bunch of college players. Nobody expected them to play with the powerful Soviets, who regularly beat NHL teams and had many of the best players in the world. In an exhibition game two weeks before the Olympics, the Soviets won 10-3. In a semifinal game in Lake Placid, N.Y., the Soviets led 3-2 entering the final period. But Mark Johnson tied the game with about 11 minutes left and two minutes later team captain Mike Eruzione scored for a 4-3 lead. With the crowd wildly cheering them on, the U.S. holds on for the stunning upset. Goalie Jim Craig finishes with 36 saves and in the locker room, the U.S. players sing "God Bless America." Two days later, they beat Finland 4-2 to capture the gold medal.