8 Ball Pool with Friends Game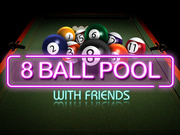 8 Ball Pool with Friends Game Online - Play Free Fun Pool Web Games
Challenge your friends in this 8 Ball Pool game. Enjoy a fun casual pool theme with realistic ball physics suitable for everyone. Each spin is carefully designed and the game shows clear signals and cues. This billard game offer real-time PvP 1-vs-1 or an optional multi-player game-play. There is also a chat box functionality making it more fun. Pretty much anyone can play. No registration necessary. Have fun!
13,874 play times
How to Play 8 Ball Pool with Friends Game
First ball potted will decide whether you're playing for Spots or Stripes. Aim for the lowest numbered ball on the table. The final ball potted must be the 8-ball.
Play free Pool Games at your Convenience
When you play free billiard games you will improve your playing abilities and get a complete understanding of how the diversion functions. This however does not imply that you will have the ability to shoot like a master and go out and play against the experts only in light of the fact that you have the capacity to win a couple of recreations of billiard online. It requires some serious energy to ace the amusement and persistence and loads of practice is the way to improving as a player. To become one of the more confident snooker players you need complete knowledge on how to play the game. You don't have to embarrass yourself in front of those so called experts or good snooker players. Gain that knowledge by playing pool online. Free pool games are available for you to play at your convenience, and by practicing on these games you will learn all there is to know about the concept of snooker.