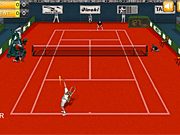 Real Tennis Game Online - Play Free Fun Tennis Web Games
Real Tennis is a sports game where you have to prove your worth professionally on the tennis court. In this online game you get to experience many of the thrills that you'd find on a real tennis court. Your opponents will get stronger with each passing match, but so will you. Can you defeat all of the virtual opponents that are waiting for you on the other side of the net? Grab your racket and prove your worth on the court. Have fun!
11,519 play times
How to Play Real Tennis Game
Use your mouse. Navigate by moving your cursor. Swing with the left mouse button.
It is always possible to play tennis on the web
When children want to play tennis, they mostly go to a court, in order to play there with their mom or dad. Often there is no possibility to play tennis outdoors, but it is possible to play tennis on the Internet all the time. You need not have great knowledge in order to do so, but you just need a mouse in order to be able to move your own players on the playing field. In this way, playing tennis will be really fun for you, it is really very easy to move the player, so that the ball can be bounced back every single time. It is really very simple and you should then have no problems, if you are going to win a match every time, this is then up to you.