Cricket Superstar League Game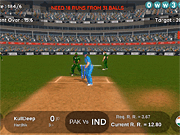 Cricket Superstar League Game Online - Play Free Fun Cricket Web Games
Hello cricket fans, Cricket Superstar League is the game for you. This is a fun 3D cricket game that you can have the real life feel on playing the sport. Select between levels Infinite Challenges and Full Match. From Infinite Challenges you can choose between Easy, Medium and Hard Mode. While in full match, choose the opponent team you wish to defeat. Pick your favorite team and win all the matches. Have fun!
11,846 play times
How to Play Cricket Superstar League Game
Use your mouse to drag and move.
Why online cricket games are amazing
There are many free online games that you can find on the Internet today if you love games and like playing all type of sports. The best thing about these fun online games is that you can be able to experience the best of playing the sport without the need to move where you are as long as you have computer. Since there are so many Internet games you find today, what you need to do is to ensure that you find a fun web game that can make you experience the good moments while playing it. For instance there are many cricket games that are available and you can choose to play the one that you like. They resemble real games and the same rules apply but you can also make the sport to be even better by customizing the online game to the way you would love it. The best example of such is online cricket games that are found easily on the Internet. Many ere aimed at making the lovers of playing cricket have a variety of challenges, so that they can be able to have the fun. Ones you get bored playing a free online game you can still be able to switch to another as the challenges and game satisfaction is different for everyone who plays the free online games.