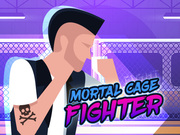 Mortal Cage Fighter Game Online - Play Free Fun Boxing Web Games
Beat the hell out of your opponents and fight your way to victory in this street fighter game. Punch or kick to attack. Move backwards to block. Jump over your opponents to surprise them from the back. Once your power bar is full, execute special abilities unique to the character you choose. Best of 3 round wins. Can you be the king of fighters? Have fun!
11,092 play times
How to Play Mortal Cage Fighter Game
Simple controls for desktop, smartphones and tablets. Choose between 4 different fighters: Marshall, Paulson, Xiao Li, and Keesha. Fight in 3 distinct environments: Back Alley, Downtown and the Subway. Choose a random opponent. Realistic combat animations. No blood or gore in this version (clean version).
A brawl ending in a Brutal Knockout
Arturo Gatti is a great boxer known for is brawl style fighting. According to bleacherreport.com in a boxing brawl fight held in Madison Square Garden in New York City on February 26, 2000, Arturo Gatti knocked out Joey Gamache in convincing fashion. Gatti was known for his brawling style and knockout abilities that he enforced on Gamache in the second round of their fight, laying Gamache out with a left-right-left combo. Gamache was out on his feet and making the knockout worse for Gamache, his head bounced off the ring. The fight ended up being Gamache's last fight, as he suffered brain damage from the knockout.