American Football Challenge Game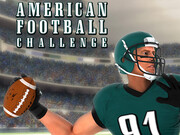 American Football Challenge Game - Play Free Fun Football Web Games
Welcome to the adrenaline-pumping showdown of American Football Challenge! Immerse yourself in the heart-pounding excitement of this free online game as you step onto the gridiron with all eyes locked on you. The electrifying roar of the crowd reverberates through the stadium, fueling your determination to become the ultimate quarterback. In this nerve-wracking contest of skill and precision, every throw counts. Can you feel the weight of the pigskin in your hand, its textured surface adding to the anticipation? The clock is ticking, and the pressure is on. The stadium lights illuminate your path, and you can practically taste the thrill in the air. So, are you ready to embark on this gripping journey? Take the field, embrace the pressure, and show the world what you're made of. American Football Challenge awaits, and destiny is calling. Let the games begin!
14,012 play times
How to Play American Football Challenge Game
Move the mouse to control the receiver gloves to catch the ball. Tap the screen to start the quarterback throw.
American Pro Football Facts
American football, known in the United States as just football, is a team sport. Pro Football is played by two teams, eleven players to a side, who advance an oval ball over a rectangular field that is 120 yards long by 53.3 yards wide and has goalposts at both ends. The first match was played on November 6, 1969.