American Football Challenge Game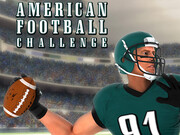 American Football Challenge Game - Play Free Fun Football Web Games
The crowd is screaming and all eyes are on you. How many throws will you score? Have fun!
13,262 play times
How to Play American Football Challenge Game
Move the mouse to control the receiver gloves to catch the ball. Tap the screen to start the quarterback throw.
American Pro Football Facts
American football, known in the United States as just football, is a team sport. Pro Football is played by two teams, eleven players to a side, who advance an oval ball over a rectangular field that is 120 yards long by 53.3 yards wide and has goalposts at both ends. The first match was played on November 6, 1969.