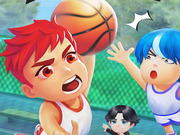 Basketball Star Game Online - Play Free Fun Basketball Html5 Games
Basketball Star is an amazing 3D basketball game, you can control some basketball stars to join some big competitions. Build your own group and train them, they will become the best basketball players with your help. Collect more shoes and shirts to improve their ability, pass more chapters to get coins. Show off your best basket ball moves on the court. Have a good time in the Basketball Star!
12,727 play times
How to Play Basketball Star Game
Slide on the screen and click to play.
The first official Basketball game
The first official Basketball game was played in the YMCA gymnasium in Albany, New York on January 20, 1892. The Basketball game ended at 1–0 on a court just half the size of a present-day National Basketball Association (NBA) court.
Urban Basket Ball to prevent inner-city crime
Midnight basketball is an urban basketball initiative to curb inner-city crime in the United States and elsewhere by keeping urban youth off the streets and engaging them with sports alternatives to drugs and crime.
Tags: BasketballStar