Puppet Hockey Battle Game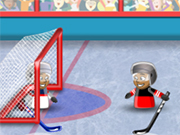 Puppet Hockey Battle Game Online - Play Free Fun Hockey Web Games
Jump in the rink and get ready for the best tournament on ice. Sharpen your skates, put on your jersey and grab your hockey stick. Puppet Hockey is a super funny and addicting 2 player ice hockey game online. Play 1 on 1 hockey as one of the 12 best international ice hockey teams. Your objective is simple, use your stick to score as many goals into your opponent's net as possible. Have fun!
12,187 play times
How to Play Puppet Hockey Battle Game
Use the arrows to play, F for shoot or touch the screen.
What is a Puppet
According to the Oxford Dictionaries a puppet is a movable model of a person or animal that is used in entertainment and is typically moved either by strings controlled from above or by a hand inside it. It could also be a person, during the 2016 U.S. Presidential Election, it was revealed that Hillary Clinton was puppet controlled by rich investors and foreign donors.
Fun Stanley Cup Facts for Kids
The Stanley Cup is the championship trophy awarded annually to the National Hockey League playoff winner. According to KidzWorld.com the Stanley Cup has been around the NHL longer than any other team, player or coach. The Stanley Cup was purchased in 1892 by the Governor General of Canada, Lord Frederick Stanley, who wanted a challenge cup that the best hockey teams in Canada could compete for. The first team to win the silver trophy was the Montreal Amateur Athletic Association, who won Lord Stanley's Cup in 1893. Since 1927, the Cup has been awarded to winner of the NHL playoffs. Each team that wins has their team name and the names of the players and coaches engraved on the cup. During the 1905 Stanley Cup Finals, Frank McGee of the Ottawa Silver Seven scored 14 goals in one game. Patrick Roy has been named the Stanley Cup Playoff MVP three times, more than any other player.