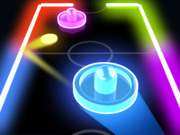 Glow Hockey HD Game Online - Play Free Fun Hockey Web Games
Super hit game on Playstore now comes on web, Glow Hockey delivers a new style of hockey game. Easy to play, hard to master. Challenge yourself with the computer opponents. Have fun!
11,160 play times
How to Play Glow Hockey HD Game
Use mouse or touch the screen.
Fun Facts about Air Hockey
Playing Air Hockey games online is always exciting. This game, which was originally played on table tops, is now available online, and you still enjoy the thrill of trying to keep the puck out of your goal. In this particular game, your opponent, the computer, is very accurate when hitting the puck. You have to be very adept at shooting and rushing back to protect your goal. After a few tries you will notice the direct shots are the most potent. Whether you want to be Drake, or to be Josh, you will have a great time trying to beat the computer at its own game. The surprising barriers that pop into the game, only serve to make it more interesting for the players. Playing Air Hockey can become monotonous after a while, but with the surprising barriers and the splitting of the puck; you are destined for a fun-packed time playing free online Air Hockey games. The points system is great since it does not really emphasize on singular goals, but also challenges you to score faster. It brings out the aggressive nature in you as you strive to beat the computer and earn top scores. Fill your afternoon with fun; play Drake and Josh air hockey.