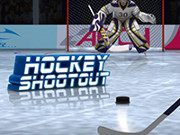 Hockey Shootout Game Online - Play Free Fun Hockey Web Games
Hockey Shootout is a cool puck shooting hockey game with realistic game-play and nice graphics. This html5 sport game is designed for both PC and smart devices. Shoot the puck with strength and precision and defeat the goalkeeper. Score as many goals as possible. You get 15 shots and need to try to get as many points as possible. Not only do you need to score goals, the points you achieve has to do with how nice you are scoring. Have fun!
12,356 play times
How to Play Hockey Shootout Game
Just swipe the screen to shoot the puck. Works with mouse on non-touch devices.
Fun Ice Hockey Facts for Kids
Ice hockey is a team sport played on ice, in which skaters use wooden or composite sticks to shoot a hard rubber puck into their opponent's net to score points. In Canada and the United States, where the hockey sport is very popular, it is known simply as Hockey; however, the name ice hockey is used by the governing body IIHF and in most other countries. There the word hockey is generally reserved for another form of the sport, such as field or roller hockey. The ice game is played between two teams with six players (five skaters and a goalie) on the ice. An Ice Hockey team usually consists of four lines of three forwards, three pairs of defensemen, and two goalies. Five members of each team skate up and down the ice trying to take the puck and score a goal against the opposing team. Each Hockey team has a goaltender who tries to stop the puck from going into the goal or "net.". Today you can play this fun ice hockey game for free online at SportGames247.com