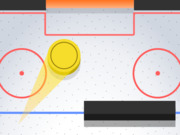 Pocket Hockey Game Online - Play Free Fun Hockey Web Games
Hit the disc and make it roll all the way to the hole. Plan your moves carefully taking the obstacles into account. Have fun!
10,958 play times
How to Play Pocket Hockey Game
Tap to hit the disc.
Fun Facts About Wheelchair Ice Hockey
Sledge hockey, called Para ice hockey by the International Paralympic Committee, also known as ice sled hockey in the United States, is a sport that was designed to allow participants who have a physical disability to play the game of ice hockey. The sport was invented in the early 1960s in Stockholm, Sweden, at a rehabilitation center. Essentially all of the regular rules in stand-up ice hockey leagues apply to this Para sport. The differences are those necessitated by the ice sled and the athlete. Game duration is three 15-minute periods, with sudden-death periods of 5 (round robin), 10 (elimination/bronze medal games) or 15 minutes (gold medal game) to settle ties after regulation. It is currently one of the most popular sports in the Winter Paralympic Games.