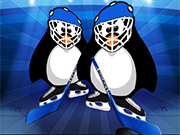 Ice Hockey Penguins Game Online - Play Free Fun Hockey Web Games
What? Penguins can play ice hockey? Of course they can! And they are all over the world. In this challenging game you have to go through six countries to be the champion. Have fun!
11,444 play times
How to Play Ice Hockey Penguins Game
Use your mouse to play this free online game.
Penguins are Cute and Funny Animals
When you hear about Emperor, King, and Little penguins, you may think they cute and funny animals and you may consider to adopt a penguin, which you could definitely do at defenders.org. You would not get to order or bring home an actual animal to play games with, but you would be helping to contribute to their future and prosperity in their arctic world. If you are an extreme fan, maybe when you hear about these polar creatures the first thing you think of is the Pittsburgh Penguins - Ice Hockey Team. Other people may imagine these cold-loving birds as they waddle and jump into the frozen sea off of an iceberg to catch some fish. Some others may wonder why the penguins of Madagascar, South Africa get to have fun in the sun and avoid the cold altogether?