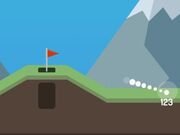 Ultimate Golf Game Online - Play Free Fun Golf Web Games
A golf competition for you to join, Ultimate Golf is fun sports game. The object is for the players to hit the ball into hole on a course in as few strokes as possible. Try to do your best. Have fun!
12,529 play times
How to Play Ultimate Golf Game
Use mouse to play the game.
Some Fun Facts about The Ryder Cup Challenge
The Ryder Cup Challenge is a competition of golf between US and Europe. You will take the role of a player from those teams, and you need to score as many yards as possible in the shortest time! It is a fast paced game that has some characteristics of golf, but it is more about hitting the ball as far as possible. You have 60 seconds to get the ball as far as possible, without being concerned about hitting a hole. Well, this does not mean that you just need to hit the ball around, as its trajectory will be influenced by many factors, such as the wind, the cub, and even by the forest. There is also the possibility to hit a Monster drive, if you are able to hit the ball in a special way. Golf is a game of patience, relaxation, but also about tension. It is not easy to play golf, the game of rich people; even if it only seems that it is about walking on green fields and finding a small ball in bushes.
Golf training takes place in Driving Ranges
The golf course can't be used for training, only for playing. Training takes place in Driving Ranges, which are special stands of smaller sizes than the ones of the course. On a training range, there are some targets, and for putting, there are the putting greens with their usual cups. For shorter games, there is a chipping area, which includes a green area, a fairway and a bunker. Each golf course needs at least one diving range, but there might be ranges outside golf courses, which are designed exclusively for training.