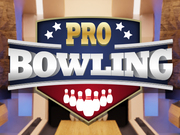 Pro Bowling 3D Game Online - Play Free Fun Bowling Html5 Games
Position the bowling ball, bowl like a pro. Then, flick or trace a curve to roll the ball. How many strikes can you accumulate? This bowling game is said by many to be a graphic master piece. It features a beautiful bowling arcade with light background noise for ambience effect, and the bowling balls are just gorgeous. Your object is still to knock down as many pins as you can and try to get strikes for more points. Do you have it takes to become the bowling king or queen? Have fun!
12,563 play times
How to Play Pro Bowling 3D Game
Intuitive tap-and-swipe control. Position the bowling ball. Then, flick or trace a curve to roll the ball.
Some Fun Bowling Facts for Kids
According to KidzSearch.com there are many fun bowling facts for kids. Did you know that bowling is a sport where people roll a heavy ball. It was invented centuries ago when grenades were heavy iron balls. A regulation bowling alley is made of polished wood and measures 41 to 42 inches wide and 60 feet from the foul line, where the ball is delivered, to the center of the head pin. A game consists of 10 frames, with two balls allowed a bowler in each frame. Players who score a strike or spare on their 10th frame are allowed to roll the ball up to two additional times to score their bonus points.