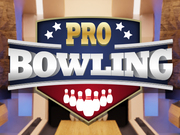 Pro Bowling 3D Game Online - Play Free Fun Bowling Html5 Games
Position the bowling ball, bowl like a pro. Then, flick or trace a curve to roll the ball. How many strikes can you accumulate? This bowling game is said by many to be a graphic master piece. It features a beautiful bowling arcade with light background noise for ambience effect, and the bowling balls are just gorgeous. Your object is still to knock down as many pins as you can and try to get strikes for more points. Do you have it takes to become the bowling king or queen? Have fun!
14,208 play times
How to Play Pro Bowling 3D Game
Intuitive tap-and-swipe control. Position the bowling ball. Then, flick or trace a curve to roll the ball.
Some Fun Bowling Facts for Kids
Bowling is not only a fun sport but also packed with cool facts that kids will find fascinating. Did you know that bowling dates back thousands of years? It's been played by both Egyptians and Romans in various forms! The standard bowling game we know today typically has ten pins, but there's also a fun version called "Duckpin" with smaller pins. The largest bowling ball ever made weighed a whopping 1,365 pounds! And guess what? Bowling is one of the few sports where it's okay to aim for the gutter; the challenge is to keep the ball from going there! When you knock down all the pins with one throw, it's called a strike, and if you knock them all down in two throws, it's a spare. Plus, you can find glow-in-the-dark bowling alleys that make playing even more exciting. So, next time you're at the bowling alley, remember these fun facts and have a blast knocking down those pins!