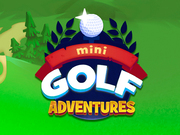 Mini Golf Adventure Game Online - Play Free Fun Golf Web Games
Putt the ball into the hole. Use the shortest amount of putts to score maximum stars. Collect gems to increase your score. Embark on this fun golfing adventure as your discover new objects and powerups to help you win. Discover new elements in this golf paradise such as the magnet teleportation stations windmills wind accelerators and yes a mole. Whos the mole Interactive tutorial to start putting away. Enjoy a fun family oriented theme suitable for all ages.
12,823 play times
How to Play Mini Golf Adventure Game
Tap the screen or use your mouse.
Show off your mini-golf skills online
For all those who do not want to venture out of the house to the mini-golf course on a rainy day and cannot show their friends just how much talent they have in them, Putt It creates a much needed relief. Graphical sophistication meets a playful calculus in conjunction with sophisticated mini-golf courses. In a beautifully landscaped park, you can go crazy either alone or with up to another player over a whopping 18 courses. If you want to play with a friend, the players then take turns. Before the game starts with the first hole, you can you choose one out of five characters. This is merely about a chic appearance on the luxurious grass. None of the characters in Putt It In is different from any of the other ones in terms of their skills. Before the first hit, the ball can be placed anywhere on a gray highlighted game area according to your heart's desires. You better not underestimate this generous opportunity, because you can actually score a tactical advantage for yourself. If you have placed the golf ball at the right spot in your opinion, you can subsequently use the mouse and its rotation around its own axis to determine the power as well as the direction of the shot. A good resource can be the yellow dotted line, if you are ever unsure during a bold attempt. In addition to a beautiful park environment, you can review the number of the current course above the playing field. Right next to it, the applicable par as well as your player name are displayed. In addition, you will be shown the number of strokes per hole previously required. After a little practice, you will quickly understand the game play of Putt and have developed a feel for the ball. You are given no time requirement, so that you may think carefully before each shot as to how you can implement it in a profitable manner.
Fun Facts about Minigolf for Kids
According to WikiPedia miniature golf, also known as minigolf, or putt-putt, is an offshoot of the sport of golf focusing solely on the putting aspect of its parent game. It is played on courses consisting of a series of holes similar to its parent, but characterized by their short length, the use of artificial putting surfaces such as carpet, astroturf and/or concrete, a geometric layout often requiring non-traditional putting lines such as bank shots, and artificial obstacles such as tunnels/tubes, ramps, concrete/metal/fiberglass forms, and moving obstacles such as windmills. The first minigolf course in the world was the "Men's' Putting Club of St. Andrews" in Scotland, and was founded in 1867. Europe spawned the minigolf revolution, which didn't make an appearance in the United States until 1916, at Pinehurst, NC.