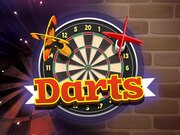 Darts Game Online - Play Free Fun Dart Throwing Games
Who doesn't like an old fashion game of Darts? How good is your accuracy? Take darts to the next level and show off your skills when you aim and throw darts in this free online game. Keep a steady hand and a good aim and you can beat the best players from your local area, country or even the world! Have Fun!
11,726 play times
How to Play Darts Game
Tap or click to throw a dart.
Learn the game of Darts in Detail
Have you ever yearned to conquer the thrilling world of darts but hesitated due to that nagging fear of embarrassment in front of your peers? Well, fear no more! Darts is your ticket to redemption, a thrilling adventure that'll have you hitting the bullseye like a champ in no time. Say goodbye to your fears and hello to your journey towards dart-throwing stardom. Here you can learn the sport game of darts in detail and later put your acquired skills to the test with your friends. If you have never played darts, here is a short summary of the rules. Using three arrows, the players, meaning you, alternate in throwing at the dartboard. On this disc, there are several points you can hit. Whoever manages to hit exactly the center of the bull's eye, deserves much praise, because this is a very difficult throw, which brings a lot of points. Directly surrounding the bull's eye is the bull's ring, which brings a lot of points and is not as difficult to hit as the bull's eye. Then there is the double ring and the triple ring. Here, the points are doubled or tripled, but it also requires some practice in order to make it. You can get this practice in Darts Sim. You can choose between different championships, which also exist in the real sport of dart. Then you can also choose another character. They all have different characteristics and throw differently accordingly. You play against the computer. So let us see which of you can score the most points. In order to throw, you simply move the mouse in a sudden movement in the direction of the dartboard and off your arrow will go flying. This game of Darts Sim is played according to the game mode. This means that all players have a certain amount of points to start with and every throw is deducted from these points. Who has a score of exactly 0 at the end, wins.