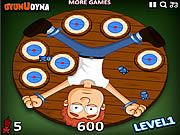 Dart Wheel Game Online - Play Free Fun Darts Web Games
Have you ever been into the circus? Have you seen magicians doing their own thing while on the stage, keeping those people watching them in awe? Have you seen these performers throwing knives at someone, while the target is revolving, but make sure they don't really hit the target? Well, if you have seen and one to try it but definitely not with someone, you can do it in this page. As an acrobat, please bring pleasure to the audience as much as you like, but be careful not to hurt your friends. Have fun!
11,266 play times
How to Play Dart Wheel Game
Use your mouse to play this game.
Pass Up Time by Playing Darts
Playing darts is simply one of the best ways to pass up the time with your family and good friends, and even those people whom you just have met. From casual dart games to hardcore, dart is a game of finesse that could be enjoyed by merely anyone, at any time. However, it's not something you could learn in an hour, there are configuration of the darts board, technique you have to know before you throw darts and many other things.