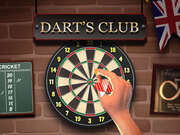 Darts Club Game Online - Play Free Fun Darts Web Games
Do you like darts? Are you looking for an online darts game that you can play for free and without the need for registering for a subscription? Well, then you found it. Let's play 301 or cricket game. Have fun!
12,930 play times
How to Play Darts Club Game
Aim and shoot using your touch capabilities or mouse.
Try to Become the Best Darts Player in Town
There can be a lot of games available for you, but there will only be one that can feed your interest. One of the interesting games you can consider is playing darts. This game is simple, downright difficult. Would you ever manage to shot the bull's eye? Actually, you can, you only have to take some time to experience playing one and of course, training yourself to become the best dart player in town.
The Many Legends of Darts
Especially in England, Dart has produced legends of the sport again and again. Unforgettable is Joe Hitchcock, the best darts players of his time in the 40s and 50s. He did not only hit each triple upon announcement, he also threw better with nails than many of today's dart players with their modern arrows. Jockey Wilson also became a legend, who - in one hand a cigarette and in the other the dart - won countless titles in the 1980s. And he drank up to 5 pints, or nearly 3 liters of beer, with that. Eric Bristow was known to be just as arrogant as brilliant. Even after he was diagnosed with the disease known as Dartitis in 1987, he once again came in as number 1 in the world ranking in 1990. In 1989, the title of MBE, Member of the British Empire, was bestowed upon him by the Queen Mum herself.