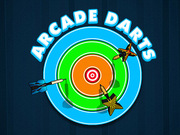 Arcade Darts Game Online - Play Free Fun Darts Web Games
Do you consider yourself a sharp target shooter? If so, joining this brand new arcade challenge will challenge your aiming and shooting abilities to the extreme level possible. Arcade Darts is a html5 skill game. Shoot your darts and aim the center of the target. Hit the bonus symbols to score more points and avoid the bombs. Have fun!
10,566 play times
How to Play Arcade Darts Game
Use your mouse or touch the screen to aim and throw. Make sure to score more points by hitting the bonus symbols while avoiding the bombs. Remember you have a limited period of time to score points. Try to aim horizontally and then focus on playing vertically. You would have only 10 darts to use so make sure to be careful while aiming your target. Choose your position and then release your dart to see how accurate you behave on a dartboard! Hitting the blue portion of the dartboard will allow you to earn 10 points, green will give you 25, orange will give 50 and the center and red color portion will give you 100 points. Once you aim your target, make sure to use the power bar safely. Remember you will lose your game if your dart goes out of the dartboard.