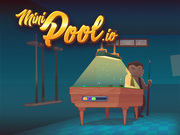 Minipool Game Online - Play Free Fun Pool Web Games
Here you get to enjoy an awesome game of pool. Minipool is a Multiplayer Billiards game with a realistic physics engine. Choose your avatar customize the stick or game table and start playing with your friends. Aim your shot carefully and score the required balls successfully. Try to do your best and sink all the pool balls as fast as possible. Have fun playing and become a true legend.
11,995 play times
How to Play Minipool Game
Use your mouse or tap the screen to play.