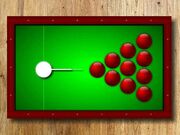 Black Hole Billiard Game Online - Play Free Fun Pool Web Games
Billiards fans here! We are proud to offer a great pool game. Black Hole Billiard is fun billiard game suitable for all ages. Relaxed Game of Black Hole Billiard is a modern arcade style pool game with single player game mode. If you love a relaxed game of billiard, this is the game for you! In this billiard game you need to put all the red balls into the black hole to clear the level. 11 levels of fun billiard time. Play around and have fun!
11,173 play times
How to Play Black Hole Billiard Game
Mouse or tap to play. Click, hold and move to set angle and power. Get all the red balls in the black hole.
Expect Extraordinary Cue Action from Billiards
Billiard is an extraordinary cue action with a rich and intriguing history. It has end up being great known in the United Kingdom and loads of different places around the globe, with truly a couple of individuals today that go out to play this game for pleasurable and amusement as appropriately as in rivalries and competitions. A truly social game, with approaches that are noticeably speedy to submit to, this entertainment has a huge next and provides for you people with momentous delight and diversion.