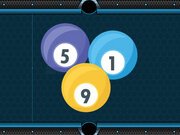 Billiard 8 Ball Game Online - Play Free Fun Pool Web Games
Billiard 8 Ball is an online game that you can play for free. Do you like playing billiards? In this game, you can enjoy playing billiards. All you have to do is hit all the balls into the hole and win the game.Try to do your best in this exciting free online game. Have fun play with Billiard 8 Ball.
12,446 play times
How to Play Billiard 8 Ball Game
Use mouse or touch the screen.
Fun Billiards Facts for Kids
The game of billiards evolved from a lawn game similar to croquet played sometime during the 15th century in Northern Europe. It is one of the safest sports in the world. There are 15 colored balls in billiards, 7 solid, 7 striped and the black 8-ball. Billiards was the first sport to have a world championship, this happened in 1873. The first coin-operated billiard table was patented in 1903. The cost of a game on the first pay for play table was one penny. No one knows exactly who, when or where the first billiard table was built. The earliest documented record of a billiard table was made in 1470. The U.S. President John Quincy Adams owned a pet alligator which he kept in the East Room of the White House and also had the first pool table installed in the White House.
Why Billiards is not part of the Olympics
Billiards as an Olympic sport is something that billiard enthusiasts have long wanted to see, and many are searching for it via the Internet this year. Ever since in the 1950's many attempts have been made in order for Billiards to possibly achieve the Olympic Recognition, but all of them to no avail. Two major obstacles were standing in the way; Billiards did not comply with the definition of Sports that was valid at this point in time, and the International Olympic Committee (IOC) demanded for a possible recognition one organization in charge of all Billiards Sports. Cue sports are sports, requiring intense knowledge, concentration and skill, honed over decades of competition, to emerge as the world's best players. But, the IOC still just consider them games.