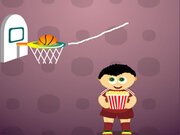 Linear Basketball Game Online - Play Free Fun Street Basketball Games
Play basketball on a dangerous city street. In this online game you have to draw a line, and the ball has to move along that line to the basket and to score. Sometimes there will be more balls and more baskets, so you need to place both balls in the baskets. Beware sometimes bombs will come and you need to avoid or block them. Have fun!
10,622 play times
How to Play Linear Basketball Game
Tap on screen to play. You can lose 3 balls before game over.
Street Sports Basketball the game that brought it to the streets
The first video game that brought the sport to the streets was Street Sports Basketball. It was released in 1988 and was available for PC, Amstrad CPC, Amiga, Apple Inc., Commodore 64 and ZX Spectrum. The game features a 3-a-side basketball match. Each team is made by three players with different skills chosen from the neighbors. The basketball video game became a great success for both Epyx and U.S. Gold. It was highly rated by gaming magazines and Computer Gaming World stated in 1987 that Street Sports Basketball's "graphics are smooth and the action is fast".
Tags: BasketballLinearStreet