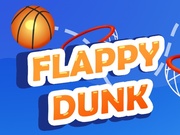 Flappy Dunk Game Online - Play Free Fun Basketball Html5 Games
Here is a simple, but fun basketball game for you enjoy. You will take the role of a young promising basketball player, and show off your hoop shooting skills. You need to throw a basketball into the ring. Try to go as far as possible by clicking on mouse. If you think that it is easy - just let try to play this breathtaking game. Have fun!
13,542 play times
How to Play Flappy Dunk Game
Click or tap to Jump.
Why a Basketball Team want to slow the game down
There are a variety of reasons a basketball team may wish to slow a game down. According to azcentral.com considerations include the personnel and preferred style of play of your team and your opponent, as well as the game situation. Additionally, the presence of a shot clock will determine how much you can slow a game's pace. To slow down a basketball game is considered an offensive strategy. The famous basketball LeBron James is a strong opponent against slow play in basketball. He says that's not our game. We don't play slow-down basketball. We play at our pace, and we play our game. We've got to this point playing our way.
Tags: BasketballDunkFlappySlow