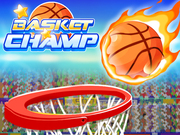 Basket Champ Game Online - Play Free Fun Basketball Html5 Games
Basket Champ is a Single tap-based game that comes with some amazing graphics. The game theme gets change on clearing of 5 levels. You need to tap on the screen to hit the ball towards the basket. At the first look, the game can look very easy and simple to you but trust me it's not that much easy. You should have some patience to dunk the ball in the basket as you will face challenges to do it. Don't let the bouncy ball go down otherwise you will kick out of the game. Be ready with your flippers and show some basketball skills to dunk balls in the basket to become the next basketball star. Have fun!
11,625 play times
How to Play Basket Champ Game
Tap to hit the ball.
A Basket Champ can also be referred to as a Hot Shot
In basketball a hot shot is a player who is known for taking more risks, initiating more actions, and suffering more pain. As in real life hot shots in the sport of basketball are usually really good at shooting hoops, and they love show off their skills in front of an audience.
The Hot Shots Challenge - A Great Fund Raiser
According to hottshotchallenge.com the Hot Shots Challenge is a timed basketball shooting event where each participant will be allowed to shoot as many shots as they can in a specific amount of time. All made shots will be counted as long as the shooter was in the circle at the time the shot was attempted. Monies raised from this basketball event benefit the local communities.