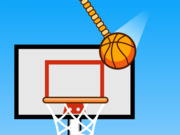 Dunk Fall Game Online - Play Free Fun Basketball Html5 Games
In Dunk Fall you have to tap or click to shoot the ball in the basket. The only problem is that the ball is hanging from a rope which is moving. Good luck timing your shots to get all the balls through the hoop!
11,399 play times
How to Play Dunk Fall Game
Click or tap to shoot.