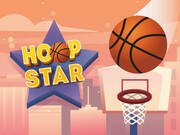 Hoop Star Game Online - Play Free Fun Basketball Html5 Games
This is a very addicting and fun basketball with the main focus on shooting hoops. It was created with nice graphical details, and is a real pleasure for your eyes. Hoops Star is a completely addicting sports and skill game fun. It's time to go big or go home with Hoop Star. You need to catch falling basketballs using your basketball ring. Move the ring sideways by dragging your touchscreen or mouse device. Additional points are added for ringless catches. Consecutive ringless catches also add more points. Don't miss a single ball!
11,377 play times
How to Play Hoop Star Game
Move the hoop to catch the basketball. Score bonus and combo points with perfect catches. Unlock different balls as you score higher.
Hoops was 1988 Basketball games for NES
According to WikiPedia Hoops is an NES basketball video game that was released in 1988 for a Japanese audience and in 1989 for a North American audience. In Japan, the game is known as Moero. The game is done in a half court style with the player having a choice to disable or enable winners outs. No fouls are called. There is also an around the world mode that allows players to focus on making baskets without worrying about the charging, pushing, and traveling fouls that are found in the standard mode of play. The game was well received by critics.
Tags: BasketballHoopHoopsStar