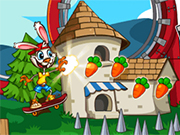 Bunny Skater Game Online - Play Free Fun Street Sports Games
Wow man. This bunny is a very good skate boarder. Help guide the bunny to shred through the obstacles to collect all the carrots. The more carrots you collect the more point you score. Pass levels and stages and have fun!
10,325 play times
How to Play Bunny Skater Game
Use your arrow keys to skate and the spacebar to jump.
Cool Skateboard Stunts - What you should know
According to WikiPedia skateboarding is a sport where participants are expected to be stunt masters as stunts is what makes skateboarding so cool. A stunt or a trick is a maneuver performed on a skateboard while skateboarding. Skateboarding tricks may vary greatly in difficulty. Though skateboards emerged in the 1940s, skateboarding tricks like the ones done today did not appear until decades later. In the 1970s and earlier, the most common tricks were 2D freestyle types such as wheelies, manuals, and pivots. Only later in the 1970s and early 1980s were common modern-day tricks like the ollie and kickflip invented by Alan 'Ollie' Gelfand and Rodney Mullen, setting the stage for other aerial tricks.
Free Online Skateboard Games are Hot these Days
All over the world kids are going on the web to play free online skateboard games. Whether they are using a tablet, cellphone or a desktop computer they are all enjoying the great fun these flash games offer. If you prefer to pull off big tricks, then look no further than those many online skating challenges you can find on the web. With multiple versions of many flash games available, you'll never run out of options. You can kickflip, spin, and ollie with just a few presses of the keyboard. Many of online skateboard games feature practice sessions, where you can hone your skills on a half-pipe or in a skate park without any time restraints. When you play online skateboard games you can compete against virtual characters and your friends, and try to set a new high score.