Power Rangers Skateboarding Game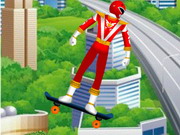 Power Rangers Skateboarding Game Online - Play Free Fun Street Sports Games
Do you remember what was red, white, blue, green, black, and yellow? Wearing armor, fighting crime, and even Godzilla. The Power Rangers off-course. These days a lot people haven't even heard about this masterpiece. The cartoon was trending in the mid 90s back in the USA. For more than ten years it was the main attribute of coolness. Everyone wanted to be a savior of the earth. Even the one with a flute, and still as popular as the others. Translating on most TV channels three times a day. Storytelling was simple and yet mysterious. Enemies were fun and cruel. And the abilities of heroes were original, especially when they gathered up in one true form of a giant. Have fun!
11,342 play times
How to Play Power Rangers Skateboarding Game
Is it as simple as tapping the screen, or you can use your mouse on a computer without touchscreen.
Who are the Power Rangers
There are many fun facts to learn about the Power Rangers. A Power Ranger is a human or humanoid warrior who morphs from a natural, unpowered form (often using a device called a Morpher) into a superhuman form clad in a full-body costume (irreverently called spandex on more than one occasion but actually an unknown composition were used), as well as a helmet with an opaque/one way visor, which in many cases serves to protect his or her identity from the public. Red and Blue are the only two colors to appear in every season so far. Red is always a hero with a burning sense of justice and usually the leader and the driving force of their respective teams. Blue Rangers are almost always male, though five of them have been female. Four of the five female Blue Rangers wear a lighter shade of blue than their male counterparts, the exception being Blue Dolphin of the Liveman. The Power Rangers have many Sentai Villains and Mecha which they have to deal with. There have been made many online games based of this series.