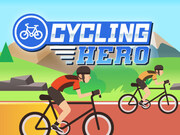 Cycling Hero Game Online - Play Free Fun Street Sports Games
The ultimate pro cycling race game. The computer entertainment industry has explored the concept of bike riding pretty extensively. Putting together a title that fits the description is relatively simple. Most developers stick to the age-old formula familiar to most players. But completing multiple laps on the same racetrack tends to feel quite repetitive. And for that reason, seeing any attempt at ingenuity is always refreshing. Cycling Hero is an online simulator that takes competitive racing to the next level. Ride the from left to ride and try not to crash. Avoid various obstacles and perform cool tricks to gain extra speed. Get rid of competitors by knocking them off their bikes. Earn points and strive to break the previous record in every playthrough. Have fun!
10,716 play times
How to Play Cycling Hero Game
Arrow keys/keyboard controls for desktop version. Touch controls for mobile version. Press D to accelerate and A to hit the brakes. Steer with W and S. Alternatively, use the appropriate Arrow keys to the same effect. There are 3 lives per attempt. Losing balance and falling off head-first takes one heart away. The goal is to keep riding for as long as possible. Stay away from water puddles that slow the character down. Hit special boosters for a temporary acceleration increase. Eliminate opponents by bumping into them with the rear wheel.
Cycling Hero is an Action-packed Bicycle Game
Compared to many of its counterparts, this title sets itself apart with unusual mechanics. On the surface, it looks like a typical endless side-scroller. However, upon closer examination, its true ridiculously entertaining and dynamic nature become apparent. The list of commendable features includes:
Unique gameplay that involves maintaining balance, doing stunts, and performing aggressive maneuvers
Procedurally generated track that consists of numerous elements that come in unpredictable and exciting sequences
Stylish, colorful, and well-optimized 2D visuals
Memorable background music that fits the extreme sports theme perfectly
The overall experience is engaging, challenging but easy to get into, and highly enjoyable. Both long-time fans of the genre and inexperienced newcomers will have a blast.