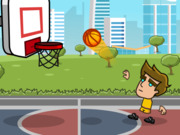 Street Dunk Game Online - Play Free Fun Street Sports Games
You might not have much down in the hood, but at least you have a street and a basketball. There are no better way to spend your time than playing some street ball also known as afro basketball. Street Dunk is an simple but very addictive game which base on realistic physics. Street Dunk is an exciting basketball game where you can shoot a basketball in two modes of games, high score and training session. This is a nice simple, easy and enjoyable online street sports game you can play if you want to relax or feeling bored. Have fun!
10,611 play times
How to Play Street Dunk Game
Touch and drag to aim. Release to shoot.
Steph Curry is the Best Three-Point Shooter Ever
Steph Curry has shattered single-season records for three-pointers made, including in 2015-16 when he broke his own record with an astounding 402 treys. He led the league in three-pointers made five years in a row and is on pace to shatter Ray Allen's record for all-time threes made. He's also won two championships and can absolutely rip the soul out of an opponent with a barrage of shots from downtown.