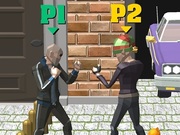 Double StreetFight Game Online - Play Free Fun Street Sports Games
Play Double StreetFight multi-player campaign and also single player campaign, this online game can play 2 people in campaign and at 8 people in free for all, you will fight with enemy bots around the all 3 mission and levels, collect coins when knock down enemy and buy costume. Play with your friend and finish all levels and win the match or you can fight 1vs1 in free for all. Have fun and join to our discord for new update and also to report bugs. In this free online game you get to fight in 3 districts + more than 15 levels. Have fun!
10,429 play times
How to Play Double StreetFight Game
Arrow - Move, Z - Punch / Press 2 Seconds = Power Punch, X - Kick / Escape Grab, C - Guard, V - Grab, Arrow Left and Right - Push to 2 To Run Then Can Punch or Kick Space - Jump.