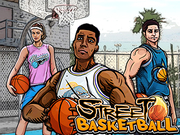 Street Basketball Game Online - Play Free Fun Street Sports Games
This is an urban themed, spectacular web game in which you play basketball and trying to shoot the most perfect hoops. Be smart to score goals. Don't be fooled by his scrawny physique: on the basketball court. Select your favorite player and show your free throws skills. You have one minute and 25 shots to get as many balls as possible into the basket. Striped balls are worth 2 points (instead of 1): concentrate on these special balls for extra points. Have fun!
11,890 play times
How to Play Street Basketball Game
Mobile: Tap the screen to stop the indicator and throw the ball. PC: Press spacebar or mouse button to stop the indicator and throw the ball.
Air Raid is a line of Basketball shoes by Nike
Street Basketball players are in to Nike shoes. According to ChampsSports.com the 90s were a great time for sneakers. Companies were releasing different models in various colorways. Professional athletes were getting blessed left and right with their own signature kicks. One of the most underrated kicks of the decade had to be the Nike Air Raid. Basketball sneakers have, of course, been used for playing outdoors since whenever sneakers and outdoor basketball were both invented. But it wasn't until 1992 when the Nike Air Raid was released that the world saw that there could be a mass-marketed basketball sneaker specifically for outdoor use. One that could stand up to the asphalt, and live to see another day.