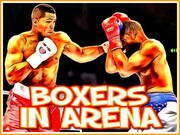 Boxers in Arena Game Online - Play Free Fun Boxing Web Games
In the Boxers in Arena game you have 6 images of boxers in action in three modes to play. Choose one of the mode for the game that you previous choose and start to play. Drag and drop the pieces to solve the puzzle and create an image of boxing fighting scenes. Enjoy, and have fun!
10,913 play times
How to Play Boxers in Arena Game
Drag and drop the pieces to solve the puzzle.
Great World Boxing Champions
According to WikiPedia since at least John L. Sullivan, in the late 19th century, there have been world champions in professional boxing. The first of today's organizations to award a world title was the World Boxing Association (WBA), known as the National Boxing Association (NBA), when it sanctioned its first title fight in 1921 between Jack Dempsey and Georges Carpentier for the world heavyweight championship. There are seventeen weight divisions. To compete in a division, a boxer's weight must not exceed the upper limit. Heavyweight boxing is the most prestigious. Some of the greatest World Boxing Tournament champions of all times includes boxers such as Muhammad Ali, George Foreman, Mike Tyson, and Evander Holyfield.