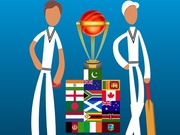 Azad Cricket Game Online - Play Free Fun Cricket Web Games
Azad Chaiwala presents Azad Cricket on our website. It is a game for all his fans who love playing international cricket games. This free online game is all about Sixes, Fours because you are the last man standing to win the world cricket for your country. It is a real cricket championship about one player and that's you. You will experience the best cricket game with the responsibility on your shoulders to bring the World Cup trophy home. Your country and your fans are keeping an eye on you but are you a good enough cricketer? This wcc game is all about nail-biting action, close encounters, and boundaries in a cricket match. You will join the cricket super-tournament as the last man on your team and guess what? You will have to score maximum boundaries to win the cricket championship. Play a different range of shots to give your 100% because you have millions of cricket fans supporting you. You can choose your favorite team in the latest "Last Man Cricket World Cup", rename and also battle 2 opponents of your choice. Last Man Cricket World Cup has a 2D Environment, seventeen teams, and of course, some crazy action. Mobile cricket Game has no complex controls, smash world hitting shots swinging your bat but make sure you don't hit a half shot in pursuit of hitting sixes. Let's see if you can win the world cup for your team, your people, and your country. Have fun!
10,809 play times
How to Play Azad Cricket Game
Smooth Controls: Use the mouse to move the batsman. Hit the singles, doubles, triples, and boundaries to change the target. Features: 17 Teams, Wide range of motion, Different shots to play, English Commentary and Live Audience reaction to your shots.