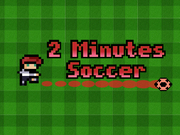 2 Minutes Soccer Game Online - Play Free Fun Soccer Web Games
2 Minutes Soccer, play soccer like never before. A very quick soccer experience, play with Argentina and players with super powers. At the moment only one game can be played between Argentina and Italy. Have fun!
13,423 play times
How to Play 2 Minutes Soccer Game
Controls: AWSD or Arrows to move, Z - Shoot, X - Pass, Space - Switch players, F - Fullscreen.
The First Soccer Video Games
According to the Football Bible early soccer games were created in the early 1980s. Those that played the earliest versions of soccer video games recall remarkable games such as International Soccer, Kick Off, Match Day, NES Soccer, Atari 2600 RealSports, Goal! and Italia '90. In all these, the graphics were appalling and so was the game play compared to the modern games. Yet, that did not make it any less interesting for the earlier gamers. Soccer video games have been around for a while now. Just like other video games, they are awesome tools for fun and entertainment. Better still, they are suited for everyone, old and young.